Blog >Business Tips
Social Media Marketing for Yoga Teachers
July 12, 2017 |

10

min read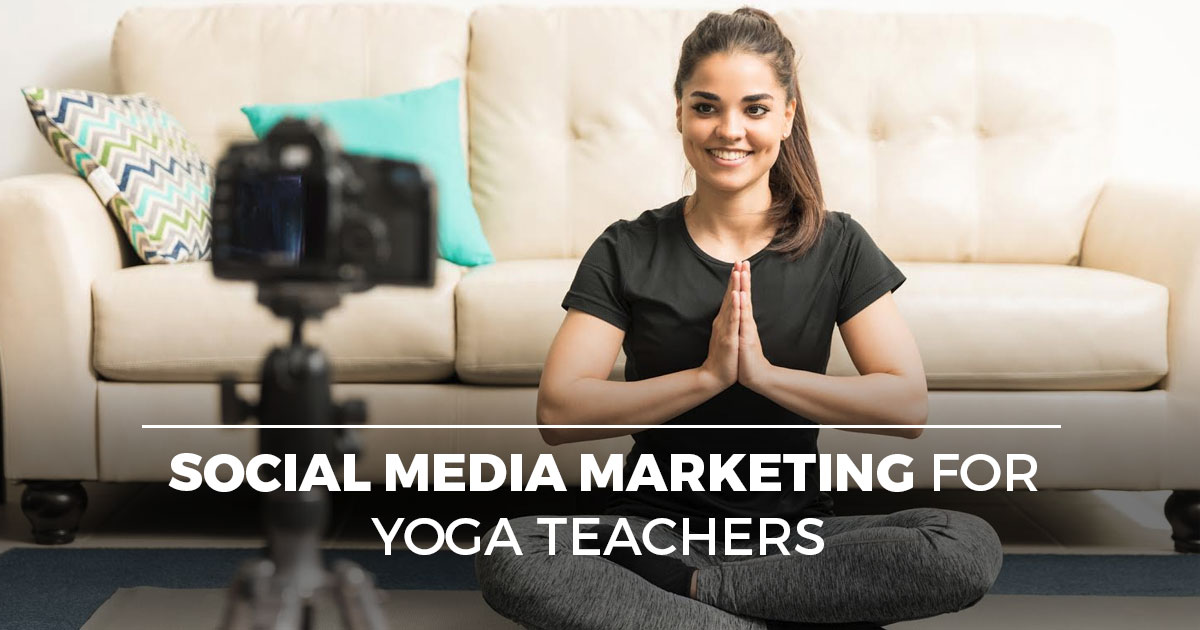 Social media can be a distracting pit of despair, or it can be a rich source of inspiration and value—it all depends on how you define yourself, your goals, and your strategy. Follow the steps below to develop an original, engaging, and effective presence on social media.
The Internet's most popular yogis all have one thing in common: They have defined themselves according to their strongest beliefs and skills. To this day, I cannot think of Ashtanga yoga without also thinking of the graceful movement and ever-smiling face of Kino MacGregor. When it comes to handstands, I immediately envision the coral colored tattoos of inversion expert Dylan Werner. And when I approach my meditation cushion, I always hear the soft and Earthy tone of Deepak Chopra, whose collaboration with Oprah has brought meditation to the masses through yearly 21-day meditation challenges.
So before you begin building your social media presence, learn a lesson from these amazing individuals: Focus on what you love, and think of how to share it with unparalleled passion.
Once you define yourself, take a moment to think about what you want to get out of social media. Revisit your website goals, and consider ways that social media might help deliver new people into your conversion funnels. If you do not have a website strategy, take a moment to review this article on how to build your website and funneling strategy.
When formulating goals, take the SMART approach. This tactic uses the acronym S-M-A-R-T to help you set goals with maximum effectiveness. Essentially, each goal should be:
S – Specific. The more specific a goal, the easier it will be to achieve. Having a clear understanding of where you want to go will help you develop specific tactics to get there.
M – Measurable. Goals must also be measurable so you can tell when you are moving toward—or away—from achieving them.
A – Actionable. Of course, goals must also be actionable. There must be actual steps you can take to move closer to accomplishing the goal, in both the immediate and long-term.
R – Realistic. This is perhaps the most overlooked aspect of setting a SMART goal. Although it's healthy to be optimistic, it can also be devastating to be unrealistic. Setting the bar too high can make modest improvements seem like failures, which can undermine your ability to build momentum. Take time to evaluate your goals, and think of ways to temper your expectations with realistic benchmarks.
T – Time-oriented. Finally, goals must have specific times and dates attached to them. This might include a duration (I will engage with Twitter followers for 15 minutes every day), a deadline (I will gain 200 new Twitter followers by next Friday), or a combination of both. Making goals time-oriented creates a sense of urgency that motivates progress.
To summarize, let's compare the following goal:
Gain a lot of followers on social media.
With the following SMART goal:
I will engage with Twitter users for 15 minutes every day, so I can build my following to 1,000 users or more by the end of the month.
Note that when you make a SMART goal, the goal itself becomes a roadmap that defines who will do the work, how they will do it, and what benchmarks will be used to measure success.
Next, consider how you might achieve your SMART goals, given who you are and what you want to deliver. For example, Kino MacGregor encourages followers to keep a regular yoga practice by sharing her daily flow and insights. Dylan Werner encourages students to chase scary inversions by posting pictures of complex arm balances, along with inspirational messages about the importance of stepping outside your comfort zone. Each of these professionals have a similar goal—to build a community of like-minded yogis— yet they use content in unique ways to develop relationships with different types of students.
One thing we can learn from these two professionals is that, although we may share similar goals, the strategies we use to achieve those goals are going to be unique. Below are just a few additional examples of how yoga instructors might use unique strategies to accomplish common goals:
Build a Following – Make a list of influential accounts that you would like to form relationships with, then set aside time every day to engage with their content (see Step 5 below).
Promote an eBook – Take excerpts from your book and create memes that correspond with holidays, weekdays, causes, and other events. Use the memes to promote awareness for your book, and provide links to where the book can be purchased online.
Find new students – Wear a pair of colorful holiday pajamas, film a winter yoga sequence, and post it to YouTube. Then, create a 15-second trailer to use as a promotional tool. Post the trailer to Facebook, Instagram, and Twitter, along with a link to the full sequence.
Developing an effective strategy is often challenging. However, remember that fear, anxiety, and insecurity are the enemies of creative power. Take time to center yourself every morning, and use techniques like journaling, meditation, and heart-opening yoga poses to find your center and cultivate bliss. Have faith that ideas will come, and trust in your natural ability to connect with like-minded individuals. For more ideas on how to build a following online, visit this article on Content Marketing Strategies. 
Identify Your Major Networks
As you define and refine your strategy, it will help to know where your ideal audience spends their time online. Consider these statistics on the following major social media channels for yoga professionals:
Evaluate the above platforms, as well as other secondary channels that might have smaller communities of users. Think yoga-specific blogs, forums, and even news aggregator websites like Reddit. Finally, select no more than 3 networks to focus on every day. This will keep you from feeling over-extended, and it will help you focus on what truly matters: Building community through genuine engagement.
When it comes to building a following, always remember: Quality is more important than quantity. "Networking is always important when it's real," explains world renowned author and marketer, Seth Godin, in this video interview. "And it's always a useless distraction when it's fake." Think of social media users as new friends who you meet at a party. You would not use new friends as a means to an end; similarly, you should never waste time or energy simply accumulating followers with whom you share no connection. Instead, take the time to build genuine relationships through engagement, curation, and conversion.
Engagement. Follow like-minded people and look for opportunities to start a conversation. Like or share posts, offer your own perspective, suggest additional resources, and ask questions that will facilitate an insightful discussion. In time, you will establish yourself as a knowledgeable person who others can engage and follow, too.
Curation. Take time to curate exceptional content that others will find helpful, entertaining, or otherwise useful. To offer the most diverse perspective, be sure to feature content from leading authorities alongside your own. Most brands like to follow the 3:1 rule: for every 3 promotional or personal posts you make, be sure to post 1 piece of non-promotional content from a 3rd party expert. For yogis, that could mean a dietitian, researcher, or medical professional who is passionate about holistic health and wellness. Think of your social media page as an art gallery—you are the curator, and you should take great pride in making your gallery an inspirational experience!
Conversion. Always give followers an easy way to find your most helpful resources. This might mean providing contact information, website links, or links to other social media profiles, depending on your conversion goals. It might feel strange to promote yourself directly but remember: If you take the time to establish genuine relationships, your presence will create value that others will deeply desire.
Tools can help, or they can hurt. Consider using tools that help to identify opportunities to build valuable relationships and achieve your goals. Avoid using tools that automate social media engagement, because nobody wants to interact with a robot. Below is a brief list of social media tools designed to help organize, analyze, and optimize your efforts.