Blog >Business Tips
6 Effective Content Marketing Strategies for Yoga Studios and Instructors
July 7, 2017 |

8

min read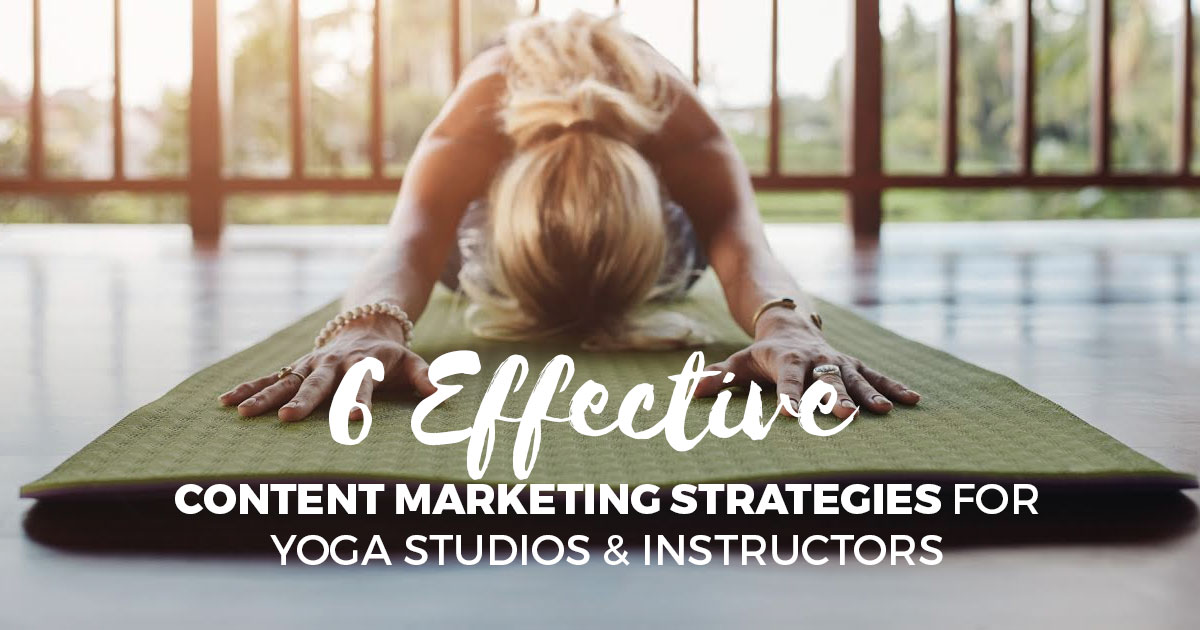 Content marketing is a fun and entertaining way to engage with new prospective students, fellow teachers, and other professionals in the yoga industry. An effective content marketing strategy will build your audience on social media and increase website traffic, all while bringing you closer to your monthly conversion goals.
So… What is content marketing?
Content marketing is a digital advertising tactic that uses articles, images, videos, and other media to engage, inform, and build trust within new audiences online. Whether you're trying to get new students, increase your email newsletter subscriber base, or sell more yoga mats through your website, content marketing is a proven method for connecting, nurturing, and converting new opportunities online.
6 Popular Content Marketing Ideas
Whereas main website pages are used to profile your business, products, and services, blog articles are a flexible type of page that can be used to promote secondary content that builds your brand image, authority, and trust. Blogs are a great place to share news stories, interviews, product reviews, and even deeply personal opinion editorials.
The best blogs have a clear voice that resonates with its audience. They also become the central hub from which most content marketing materials are published, then shared. Taking this blog-first approach to content marketing has two big benefits. First, it builds your direct audience by regularly supplying readers with unique and engaging content. Additionally, it makes it easier to accumulate backlinks as other brands and bloggers share your content, since they will link back to your blog when citing the material. As you accumulate backlinks, your overall website will gain authority and your search rankings will increase. Learn more about Search Engine Optimization for Yoga Professionals.
A good picture is worth a thousand shares, which makes infographics one of the most effective content marketing tools available. These large images help readers understand big ideas in a short amount of time. Here are 5 tips to get started:
Create an engaging headline, and make sure it stands apart from the rest of the graphic. Consider the use of a unique font or color, however, make sure the typeface is legible.
Keep it simple and focused. If there is a lot of background information the reader would benefit from, consider typing it in a separate article to publish with the graphic.
Use plenty of negative space. Sometimes, less is more. Use negative space to make it easier to see important images, graphs, and text.
Use more imagery than text. Infographics are effective because they illustrate important information. Keep that in mind, and always look for ways to replace large amounts of text with images and sparse copy.
Publish on your blog first, and include a copyright notice and embed URL. Providing an embed URL is a great way to make it easy for others to share your infographic while also getting a backlink when it is republished.
Develop content, then offer it to a 3rd party for promotion on their website, blog, or social media in exchange for a link back to your website. Guest blogs are a critical component of any content marketing strategy, because they simultaneously increase your reach while improving search engine rankings (by accumulating backlinks).
However, guest blogs must be approached with caution. Many search engines, most notably Google, have made it clear that colluding to skew search rankings can cause ranking penalties and/or removal from search results. The best way to protect yourself from penalty is to ask: How can I create value through collaboration? Do your best to create unique and valuable content, and you will likely be rewarded with good relationships, positive feedback, and better website authority.
Below are a few ideas for yoga professionals in search of guest blog opportunities:
Team up with a local restaurant or food blogger, and create a healthy meal recipe for them to share.
Find a chiropractor, and develop an infographic on basic yoga postures for them to share with patients.
Submit an opinion editorial to an online yoga journal. Websites like Yoga Journal, Elephant Journal, and MindBodyGreen are excellent examples of online communities that thrive because knowledgeable individuals continually share their experiences and expertise.
Video creation and consumption will only continue to grow as more and more people gain access to smartphones and high speed internet. Fortunately, yoga and online video are a perfect match. Video is an excellent medium for demonstrating poses, sharing sequences, and providing tips for injury prevention. It's also a great way to capture intimate interviews, directly from your yoga studio, on the topics and ideals that you find most important. Think of ways that you can inform, educate, and engage with new followers online using video content. Then, begin capturing video using a basic camera or smartphone. Download a free video editing software, and share your footage on your blog and social media.
The best online newswires do not accept promotional content for distribution, so crafting an effective press release that also promotes your brand, website, or products can be tricky. Reserve this content marketing tactic only for when there is a newsworthy event with which you can align yourself. For example, if there is a yoga festival coming to town, you might consider launching a press release to promote the event, announce you will be in attendance, and share why the event is important. Press releases build awareness for your brand while also providing valuable links to your website and social media accounts.
Sponsored social media posts.
An effective social media post begins with excellent content. Any of the items above—blog articles, infographics, videos, or press releases—can easily be promoted via sponsored social postings. Best of all, tools like the Facebook Ads Manager allow you to target users in certain locations with specific demographics and interests. Create quality content and get the targeting right, and you will quickly earn Likes, Comments and Shares from those who see your posts. Friends of those users will see the activity, helping you gain exponential access to circles that might have otherwise been unreachable.
5 Tips for Creating Unique and Sharable Content
Exceptional content begins with a thorough understanding of the audience you are trying to reach. Take time to consider the gender, age, location, and interests of your ideal audience. Think beyond the yoga studio, and ask important questions like: Where does my audience shop? Do they like to eat out? Will they pay more for eco-conscious products? The more you understand what motivates your audience, the easier it will be to develop content that makes them stop, click, and convert.
The Internet is an incomprehensibly large collection of pages, images, and videos. Despite the vast amount of information that is created on an hourly basis, there is still plenty that is missing. Gather ideas and feedback from friends, students, and online sources. If you can determine what your audience needs—but cannot find—you can quickly become a valuable information provider.
Remember: Search engines can give you free website traffic, as long as you're ranking well. Always look for opportunities to optimize your content with keywords to accumulate top tier rankings and long term visibility. This is the icing on the cake, not the cake itself. Consider SEO only after you have already taken time to understand your audience, asked what they need, and developed original content ideas. Then, prior to publishing, review your work for opportunities to update the copy with appropriate keywords.
To learn more, visit this article on SEO for Yoga Professionals.
If you've followed steps 1 through 5 above, then you should have no problem believing in your content. Be sure to share your work, thoughts, and inspiration! Think of ways to distill your work into a short Tweet, Facebook post, or Instagram post, then share across each platform. Tag others who have inspired you, and ask questions to facilitate discussion. Or, think of ways to expand upon your content, and create long-form articles to submit to other online journals, forums, or message threads. Believe in your content, and get excited to use it to form new relationships online!
Use analytics to track and improve.
Content marketing is time consuming. You can't afford to waste time developing content that doesn't truly wow your audience. Fortunately, free tools like Google Analytics can give you insights on how website visitors interact with your content. As you develop content, use this tool to assess how well your content performs in terms of attracting new visitors, keeping them onsite, and accomplishing conversion goals like class enrollment or newsletter signups.