Blog >Business Tips
Search Engine Optimization (SEO) for Yoga Teachers
June 13, 2017 |

9

min read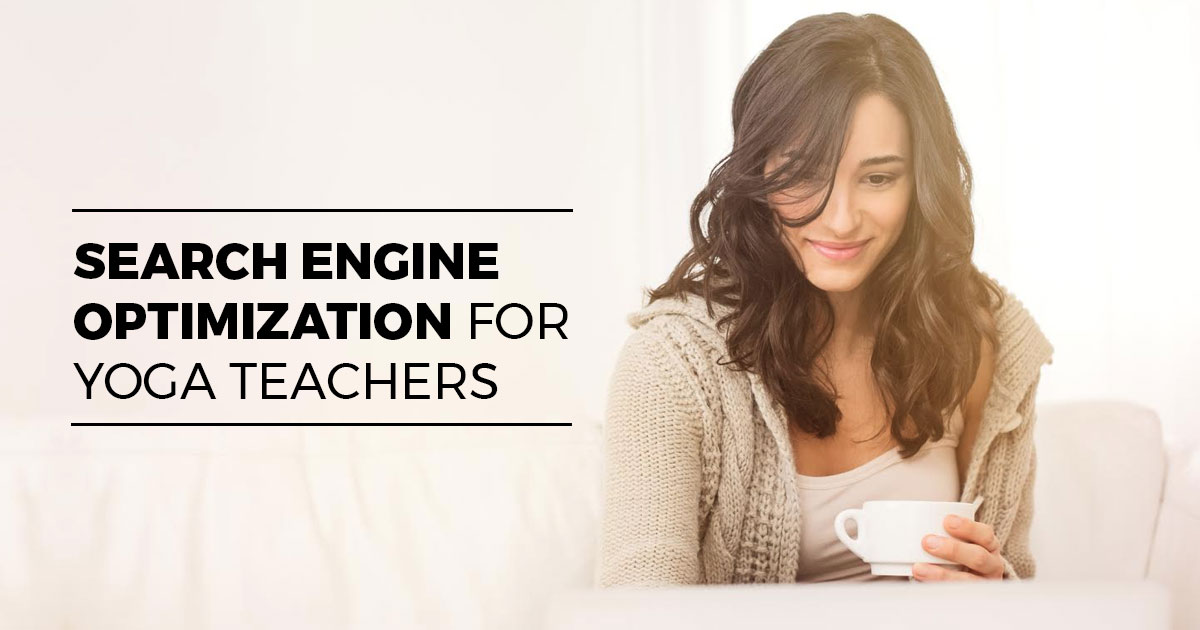 With a little creativity and forward thinking, you can generate free website traffic by taking advantage of the way search engines serve up content to curious web surfers.
In order to learn SEO, it's vital to first understand how search engines work. Often, we search for things on the computer or mobile phones without really thinking about how the information is returned to us. However, understanding that process is the first step in learning how to leverage the power of search to promote your studio, classes, or products online.
Indexing: Search engines continually scan the internet for new and existing web pages. This process is called indexing. Search engines like Google and Bing crawl from page to page, using virtual robots to report back on the content they find. This information is gathered, categorized, and stored in a virtual index.
Query analysis: Next, the search engine analyzes the query entered into the search box according to the keywords and phrases it contains. It then references its index and lists the pages that appear to be the most relevant to the query. That is the main reason search results appear so quickly. Search engines do not scan the Internet every time you enter a search term. Instead, they quickly return relevant results from an existing index that is continually updated.
User experience improvement: Search engines—particularly Google—have evolved considerably since first being introduced in the late 1990s. Today, new features like search suggestions, images, and even live Tweets are being displayed within search results to make it easier for people to find exactly what they are looking for.
A word of caution: Search engines are a business. Their primary goal is to improve customer experience by returning the most relevant results. Search results are often modified using things like user location, browser history, and search history. Savvy marketers keep this fact in mind, and they anticipate the always-changing landscape. As a best practice, always target a diverse set of keywords with a variety of unique pages (see section Creating Content for Search Engines AND People).
How do you know what people are looking for?
Now that you know how search engines work, you might be thinking: How can I predict what people will search for? After all, if you can predict the exact queries someone will use to find your products or services, then you can rank well by building content that looks like a good match. Enter: Google Keyword Planner.
Google Keyword Planner is a tool that anyone can use to gather statistics on how many times certain keyword phrases have been searched on Google. For example, if you operate a yoga studio in Manhattan, you may use this tool to determine if potential clients are more likely to search for "yoga studio Manhattan" versus "best yoga studio in Manhattan." Simply enter both terms, review the results, and optimize your website page for the best phrase. That could be the phrase that is searched the most, or it could be the phrase that resonates with your competitive advantage. For example, if you offer a free week of yoga for new students, a related query like "free yoga classes in Manhattan" might be your best choice!
Once logged in, select Keyword Planner from the Tools drop-down menu. There are 3 different ways to use this tool, and each option is listed below the Find new keywords and get search volume data subheading at the top of the page. For our purposes, we will focus on the 1st and 3rd options:
Search for new keywords… This option allows you to input multiple search phrases, one per line. Then, the tool will provide up to 800 suggestions based on the terms inputted. You may also limit the suggestions to terms frequently searched in specific locations and languages using the settings at the bottom of the window.
Multiply keyword lists… This option is great if you know what kind of keywords potential clients might be searching, but you are unsure of the order and combination. For example, you might be certain that new students might be searching for a specific type of class, but you might not be sure what geo-locater they are using to find it. If you enter "yoga class" in the first window, then list all possible locations in the second box (e.g. Manhattan, Manhattan New York, New York City, etc.), the keyword tool will automatically multiply the two lists together and provide data on all possible combinations.
Once you gather data on all the keywords and phrases you would like to target, it's time to think of how to incorporate them into specific website pages.
Creating content for search engines AND people
Keywords in hand, it's time to create content that will not only rank well, but that will also truly help those who find it. This process consists of 3 important stages: Dividing keywords, drafting pages, and performing basic on-page SEO.
Dividing keywords. As a best practice, each main website page should target between 3 to 5 keywords. These keywords should all be related phrases. For example, the homepage of a yoga studio in New York City might target New York City yoga, yoga studio New York, and yoga studio NYC. Notice that these keywords all share a common theme: yoga, studio, and New York. Other phrases that relate to specific types of classes, products, and reviews should all be assigned to separate web pages.
Drafting pages. Next, pages must be drafted in a way that meets user expectations. This is best accomplished by thinking of what the search intent is behind each phrase. To illustrate, let's consider the following 3 keyword phrase examples:
Example 1: Yoga studio in New York
Search intent: To find a local business
Page type: Informative business page. This might include broad information, like the benefits of practicing yoga at a studio, as well as specific information, like what it means to be a New York yogi. Because the search intent is to find a local business, you might consider providing a map, operating hours, and directions.
Example 2: How to do pigeon pose
Search intent: To learn a skill
Page type: Informative, how-to guide. This might include written instructions on how to prepare, enter, hold, and release the pose safely. However, many students prefer to learn poses through visual demonstration. Anticipate this need, and provide plenty of images and/or videos along with the written copy.
Example 3: Best yoga mats
Search intent: To compare products and shop
Page type: Product guide, and/or product page. This might include a list of the best yoga mats, according to feedback gathered from both students and teachers. Because the search intent is to compare mats, it is smart to include all of the variables that customers find most important, like the brand name, materials, price, size, price, and testimonials.
On-page SEO. Finally, modify the content of the page so it emphasizes the keywords and phrases it is targeting. This process is called on-site SEO, and it is critical when it comes to achieving search engine rankings. Below is a checklist to get started.
Add the primary keyword phrase to the title of the page
Include secondary keywords in each subheading on the page
Use variations of all keywords, like synonyms, throughout each paragraph
Simplify the sentence structure to make the content easier to understand. You may check reading level using the Flesch Kincaid Test.
For additional tips and advanced optimization techniques, visit this resource by industry leading search analyst MOZ.
Ranking content: Understanding the Off-site SEO Game
Search engines use a complex algorithm to determine how relevant website pages are to specific search queries. In addition to the on-site factors mentioned above, search engines will also evaluate how your page is view by other websites and other people. These factors are often referred to as off-site factors, because they include things like Google reviews, social media mentions, and hyperlinks that point to your page from another page on the Web.
At the time of this publication, links to your website are among the most important factors search engines will use to determine how well your page will rank. Although there are many factors taken into consideration, it's helpful to simplify the equation as follows: Relevancy, authority, & quality.
Relevancy: Is the page that links to your page relevant? For example, a link from Yoga Journal would be perceived as highly relevant. By contrast, a link from a Tumblr account about kittens would be perceived as less relevant.
Authority: Is the page that links to your page an authority? For example, a link from Yoga Alliance would be considered to have more authority than a blog from an uncertified yoga student in Miami.
Quality: Is the page that links to your page high quality? In general, search engines like Google discredit pages that appear to offer little value to visitors. Spam, ad-only pages, and pages that appear to offer links in exchange for money should all be avoided.
There are more than 300 factors that search engines, like Google, use to determine rankings. To learn more, visit this off-site SEO resource and learning tool by MOZ.
As yoga instructors, we know the value of building genuine relationships firsthand. SEO should be approached in much the same way as leading a yoga class. Take time to reflect on who you are and what you stand for. Dial-in to your audience by performing some keyword research and competition analysis—that is, search the keywords you are interested in, and learn from what others are doing well (and poorly).
Of course, it might take several months before search engines index your page, analyze your authority, and place you within the search results. Even then, it is a long and competitive journey to the top. To make SEO as effective as possible, proactively promote your content in ways that encourage others to share it. Challenge yourself to think outside the box. For example, studios may use QR codes to direct-link students to online resources that they can then Tweet, post, and share—all of which are actions that improve your perceived authority to search engines. Or, independent teachers can use Facebook ads to geo-target an "eat locally" guide to yogis in their city. Have faith that creating valuable content will always drive genuine, organic traffic. In time, search engines will recognize your effort and reward you with better rankings.