4 Branding Tips for Yoga Studios and Instructors
Post Date: August 24, 2017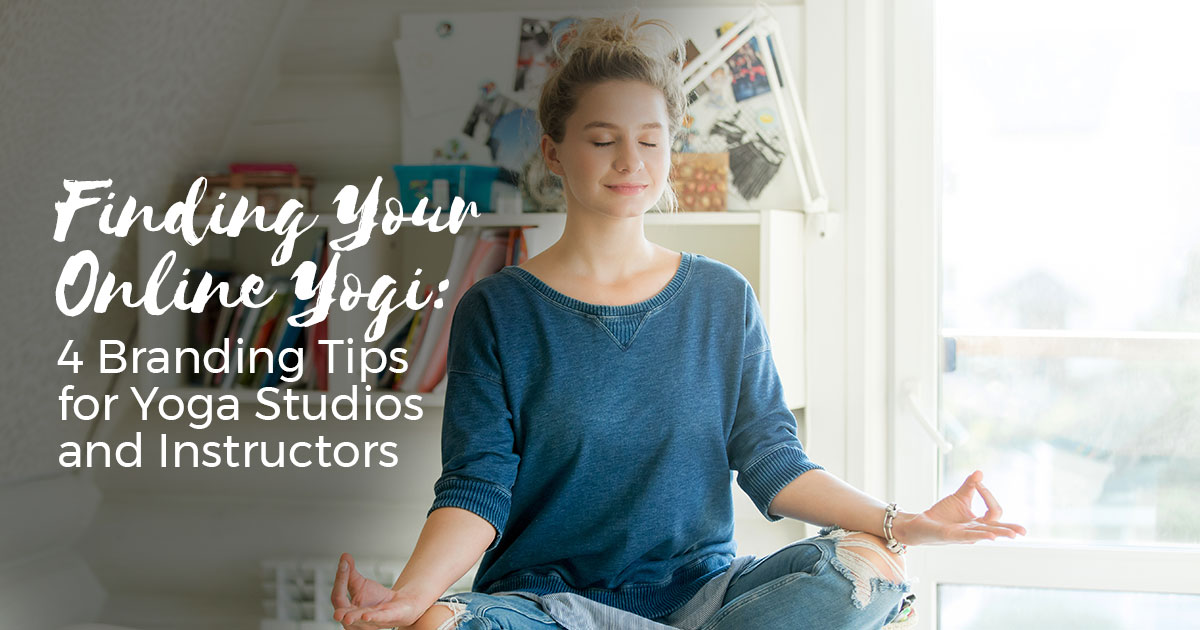 Let's be honest: there's a lot of yoga noise out there, especially online. We all want to cut through that noise and make ourselves stand apart from the crowd
But how?
The answer: personal branding.
Branding is all about creating a genuine emotional response. It's not about being "salesy." It's about creating a deeper and more meaningful relationship between a customer and your brand.
Because what you have to offer is exactly what your perfect customers need.
As yoga instructors, we experience students' emotions firsthand and know how powerful they are.
This article will share how to create a personal brand for yourself as a yoga studio or an instructor, cut through the noise, and embrace that deeper, more meaningful relationship with your students.
Step 1: Identify your niche.
If branding is all about creating an emotional response, then it's essential to know who you are creating an emotional response with. That's why identifying your niche is a critical step along the path toward developing a successful online yoga brand. However, conceptualizing a niche can be difficult.To make this process easier, ask the following 2 questions:
Who am I? Define yourself as a studio, instructor, brand, or some combination of all three. Make a list of your skills. Then, find unique ways to combine those skills so the whole is greater than the sum of the parts.
For example, maybe you left a job as an event planner to pursue your love for yoga. Upon reflection, you may feel like you were an average event planner, and now you are a novice instructor. When taken together, however, you might just find that you have the potential to be an exceptional yoga retreat planner.
Finally, make a list of your passions. Is there a way you can offer your unique skillset in a way that brings you closer to what you are most passionate about?
Who are they? Once you feel confident in the skills, services, and/or products you want to offer, it's time to consider who your ideal client or customer will be. This process may take some time, and it's best to let it unfold organically. Meditating on this question and journaling about it in the morning and evening will slowly shed light on the answer. As you brainstorm, challenge yourself to write at least 5 persona profiles to capture the essence of 5 unique individuals in your ideal audience. For example:
Lily, age 34, married to husband John, mother of 2.
Lily is a conscientious mother who always wakes up early enough to pack a nutritious lunch for both of her daughters. She always meditates before getting ready for work, even if it is only for 5 minutes because that is what Deepak Chopra recommended in his book, Super Genes. Being a working mother leaves little time for yoga practice, so she often streams classes for free online. However, she always makes it to her local studio on the weekends to take advantage of the heat and energy of her friends.
Drafting personas is critical for at least 2 important reasons. First, it provides an opportunity to think about who, specifically, is a good match for your brand. As you write, you will be forced to explore the validity of the personas. Does this person exist, and do they actually think and behave this way?
Second, as you refine and validate your personas, you will develop specific targets for which content marketing strategies can be formed. For example, Lily's persona above may provide inspiration for a 5 Minute Meditation guide that you can promote to busy moms on Facebook. Or you might decide to create an infographic on the top 10 healthiest foods to pack for kids' lunches. In both cases, Lily's persona serves as a guide to develop effective content.
For additional ideas on promoting your brand with engaging content, check out these effective content marketing strategies.
Step 2: Develop your image.
Think about what designs, colours, and tones you connect to. Then, revisit the personas you drafted in step one and think about what designs, colours, and tones your niche connect to.
Consistency is key here. Your image should be the same across all of your digital platforms, including colour selection, logo, language, and media.
The good news is, there are plenty of free tools available that you can use to develop your image. Check out this article on 3 free tools to create a stunning colour palette.
Logos can be a bit more complicated, but don't let that stop you. You don't have to break the bank to get a logo professionally designed. You can do it yourself! In general, keep these thoughts in mind:
Keep it simple.
Avoid cliches.
Add personality.
Use colour to control mood. Generally, warmer colours such as red and yellow are energetic and uplifting. Cooler colours like green and blue invoke a sense of calm.
Think about where the logo will be used and optimize it for that circumstance or platform. Is it on mobile? Desktop? In the corner of your photos on Instagram or videos on YouTube? Consider how the logo will appear in different places.
There are several different free platforms you can use to design your logo, including Canva and Wordswag.
Learn more about designing the perfect logo from DesignShack or Creative Bloq.
Step 3: Build your tribe.
There are 3 keys to building your tribe: listen, share, and learn. Listen to what your audience is saying. Share content they respond to. Learn from what works and what doesn't, and adjust your strategy accordingly.
Consistent engagement is the best thing you can do to build your brand because it shows your audience that you want to create community. For example, you may want to make a habit of doing these things every day on Instagram:
Post a photo.
Respond to all comments.
Scroll through a few relevant hashtags each day, liking photos and leaving comments.
If someone likes your photo, go to their page and like one of their photos as well (this is doable as you start out, but as you begin to grow it may not be possible).
For more tips on engaging with your audience, explore these links:
The last thing you'll want to do is research! Find social media pages that align well with your brand, and look for opportunities to share or learn from their activity. For example:
Bookmark Facebook pages
Curate Twitter lists
Build YouTube channels with email alerts
Save Instagram posts to lists
The inspiration is endless. Take notes about what you like and dislike about what different accounts do on various platforms, and incorporate those into how you build your own tribe.
Step 4: Be prepared for a crisis.
Branding yourself is easier today than it has ever been. However, with that ease comes the potential for things to spiral in a negative direction.
Just as a successful viral campaign can win new followers and heart share, so too can one negative experience create a crisis for your personal brand.
Developing and building your personal brand takes an immense amount of effort, so be sure to anticipate and plan to diffuse negative events. Big brands call this process crisis management, but individuals are wise to adopt the same strategy to protect their reputation online.
Check out these articles to get some ideas:
Have you tried branding yourself or your studio using the tips in this article? Comment below and share your experiences!