Blog >Teaching Resources
Yoga on The Beam : Your Core's best friend
May 26, 2017 |

4

min read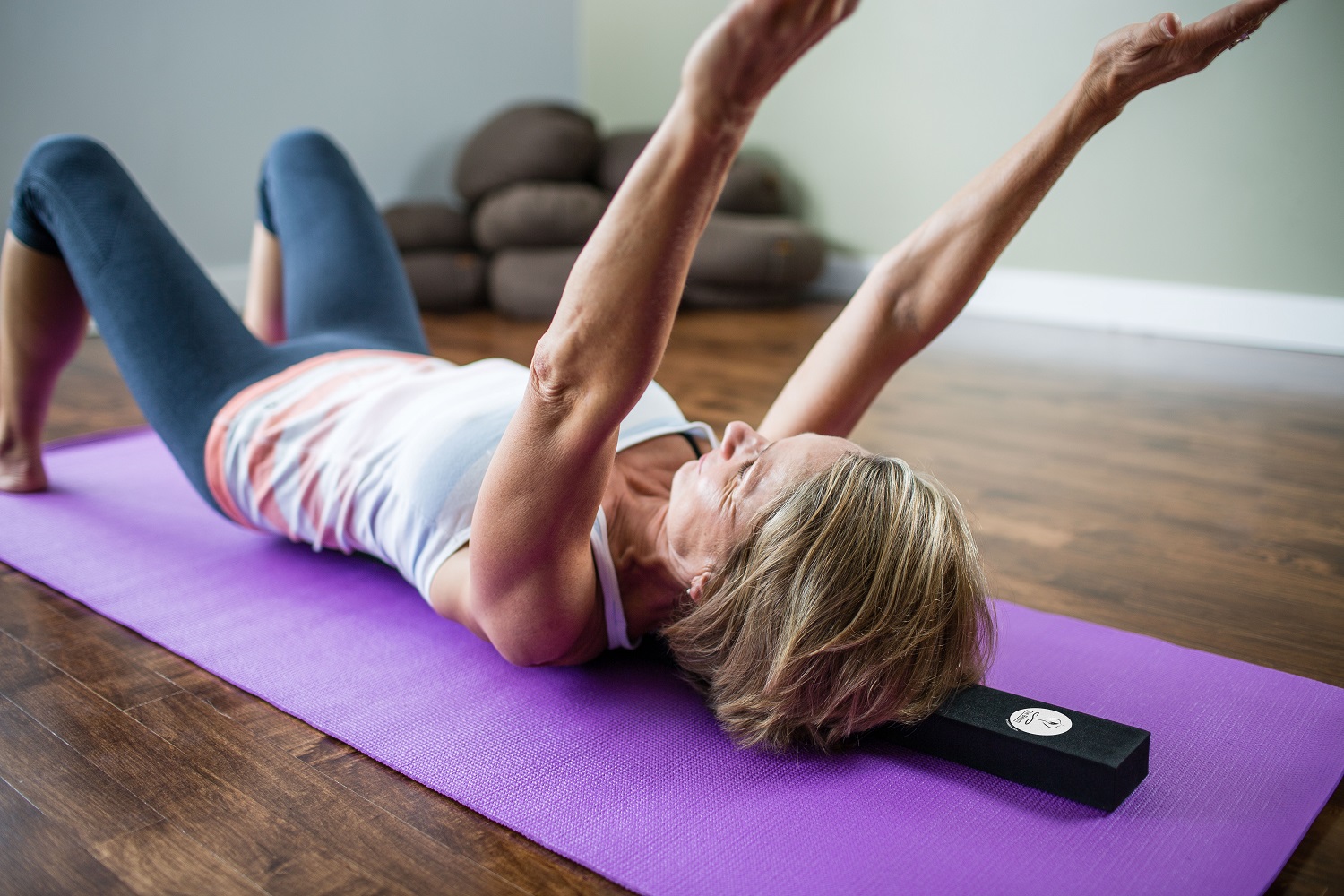 Christa Geddes came to the practice of yoga like so many of us, to recover from an injury. At the age of 20 Christa was hit by a drunk driver and suffered from terrible back pain. Upon the recommendation of Doctors, she made her way to the mat to help alleviate the persistent back pain she experienced. Hoping to avoid heavy medications in favor of a more holistic healing approach, yoga seemed like the right way to keep her back pain in check. Lucky for her, it worked.
Christa continued on her yoga journey throughout her 20's. While it provided some relief, a few more unfortunate car accidents led to further back pain. Simultaneously, Christa had taken an office job, working for an insurance company. Combining a desk job with back pain was simply too much, that back pain she had initially experienced relief from returned. After a decade of yoga practice she just wasn't finding the same relief she really needed.
That all changed the day she found YogaDotCalm's "Yoga For Backs" class. Christa attended the Calgary yoga studio's class twice a week for four years and finally began to feel a huge difference in her level of back pain. This class was taught in a restorative fashion and utilized a foam strip to help release tension in the neck, back and shoulders.
Most of the main benefits of any physical practice can only be felt under continued practice. Christa's life continued forward and with work related travel, she found herself spending less time on the mat and more back pain returning. This lead her to wonder how to replicate the foam strip that helped to relieve her back pain during the yoga for backs classes she had taken.
Christa and her lifelong friend Becky Goulet decided that there had to be a way to bring this relief to people in studios and at home. Both being busy women, they knew they needed to create something that could be useful not only for yoga students but for individuals at home that were much like them, short for time and in need of relief.
This is where The Beam was born. A prop that aims to help people who only have 10 minutes a day to achieve a sense of relief, relaxation and postural improvement. The Beam comes in two densities allowing for different but useful applications of both. While they can be used separately, both densities of The Beam work to complement one another. The "original" density is similar to a foam roller and gives the same effect as a deep tissue massage. While The "gentle" Beam is geared more towards those that have a bit less flexibility and openness.
This truly is a product for anyone. Yoga practitioners, teachers and even massage therapists have been finding useful and innovative ways to utilize The Beam to provide maximum relief. As this product is meant for everyone each beam comes with a set of instructions and postures you can do anywhere to achieve relief in just 10 minutes. You don't need to be a yogi to benefit from this product, if you participate in any sort of impact exercise or are just overcoming an injury, The Beam can works wonders for your recovery.
Here's how you can use The Beam to assist you and your students in your Yoga practice.
So what are you waiting for? If you feel persistent back, shoulder, and neck pain, or just want to gain better posture, The Beam is for you!
You can find The Beam on The Nimblebackwebsite as well as several stores and Yoga studios across Canada.