Blog >Teaching Resources
Journaling Essentials For Yoga Teachers
March 14, 2018 |

4

min read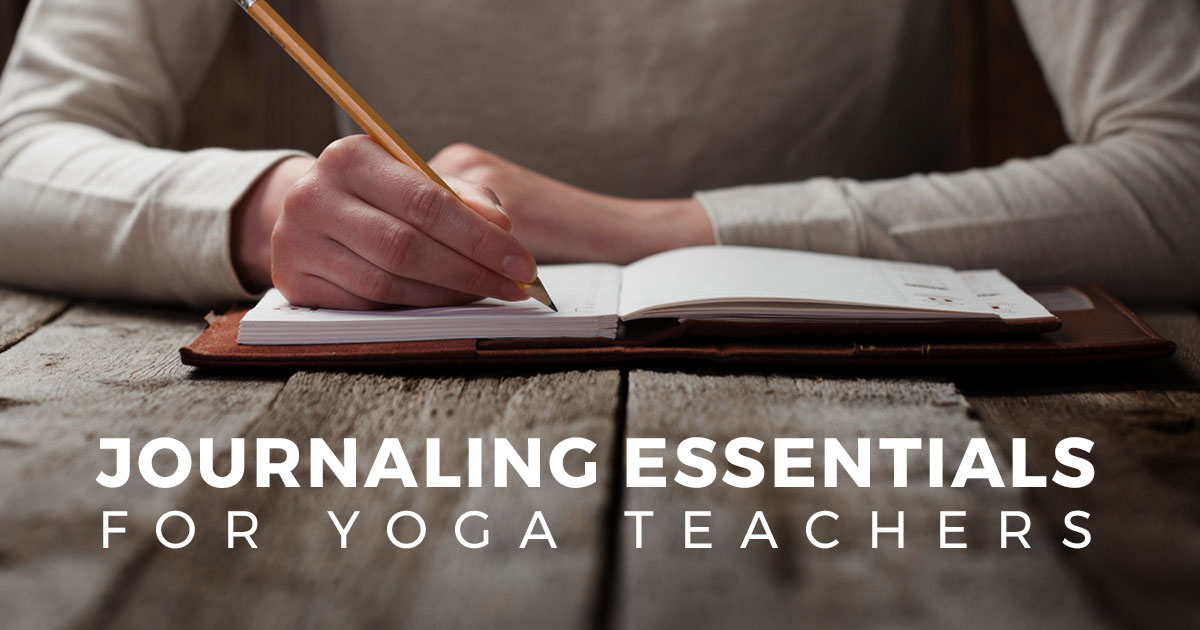 Journaling is one of the essential tools in a yoga teachers arsenal that all too few do not take advantage of. Many don't journal because they simply don't know what to write, and others simply don't know how to get started!
Journaling can be one of the best ways to grow and learn as a teacher and is a true practice of Svadhyaya or self-study. A written record of your thoughts, experience, and ideas will help you to grow and evolve as a teacher.
What You Need To Get Started:
A journal or notebook. Find something that is visually pleasing to you or at best, fits within your budget. Don't worry about how many pages it has or what the lines look like, just find something that will allow you to write whenever you need to. Bonus point if it has a place to store a pen.
Writing Implements. Based on your personality you may have pens you love or prefer that nothing be permanent and write in pencil. If possible try to have a few colourful options to help you separate ideas.
Time. Schedule time in your day to commit to your journal. Just like your yoga practice, journaling is something that requires a small sacrifice of time. If you can, try to stick to the same time every day.
A journal system. While bullet journaling and fancy perfectly printed journal pages have filled the streams of Instagram and Pinterest, your journal does not need to be overly designed or organized. At least not in the beginning.
As a teacher you may be filled with ideas for sequences, workshop or training ideas, administrative reminders and a million and one other things that run through the mind of a yoga teacher. Your journal is the perfect place to get all that down.
Sequences – by writing down your sequences, you give yourself a history of what you taught. This can help you to see where your comfort zones are as a teacher and where you may need to expand or change things up a bit.
Workshops – writing down your ideas for additional teaching opportunities will help you to develop offerings outside of a regular yoga class. These offerings will force you to learn new things and in turn will help your yoga business grow.
Administrative Items – keeping track of invoices, to do lists, and other administrative tasks will help you stay on top of the business end of things. It will also help you to realize when and where you need to put new systems into place in order to operate your business in the best way for you.
Free Writing – allowing yourself to freely write whatever comes to mind can be a freeing exercise and may unlock or tap into things you may not have been aware before.
How Journaling Helps You:
Svadhyaya or self-study is a key tenant on the path of yoga. Having a written record of your ideas, thoughts, sequences, and questions will help you to see not only what you have learned, but also the areas where you could use more study.
In keeping track of your sequences you can ensure that your classes are staying fresh and exciting. While tracking your thoughts or feelings will help reflect the things that your energy is drawn to.
You don't need to censor yourself when you journal so you will allow your real thoughts and ideas to come to the page with ease. This type of writing will help you move forward and develop not only personally, but as a teacher as well.
Commit to a 30-day journaling challenge. For the first 30 days of January give yourself the opportunity to freely journal without limitations or censoring every single day. You can write for as long as feels comfortable to you, even if it is only a few short minutes.
When the 30 days has come to an end, look back at what you wrote. See if you notice repeating themes or ideas and then use those to help inform your practice, your classes, and your life as you move forward into the new year.
Journaling is an essential tool for all yoga teachers and with a little bit of time and effort, you will find that journaling will help you to become the teacher you have always wanted to be!