Blog >Business Tips
How to Set Up a Yoga YouTube Channel
August 31, 2017 |

7

min read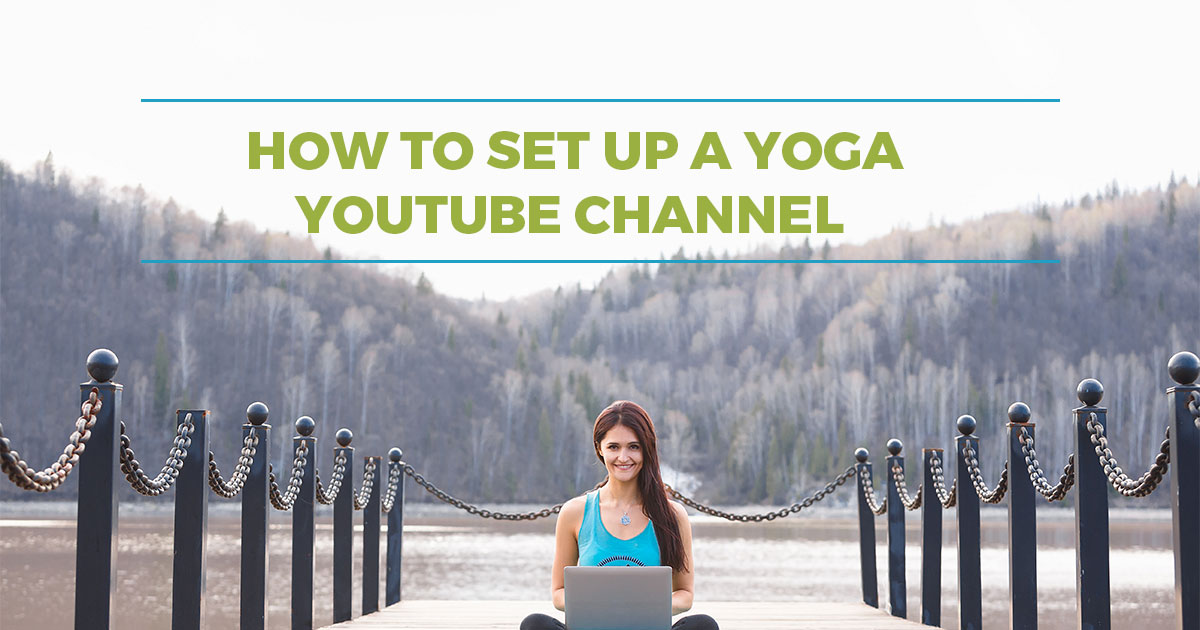 Because yoga is so fluid and dynamic, it really lends itself to video content. People are busy and can't always make it to the studio for class between work or school or kids, so yoga videos cater to their need for quality yoga classes on demand whenever they have the time to practice.
But why YouTube?
The Benefits of YouTube Video Marketing
Large audience. YouTube opens the door to a major national (and international!) audience with over a billion users— almost a third of all people on the internet (Source). According to Nielsen, YouTube reaches more US adults aged 18-34 than any cable network. Whoever your target audience is, it's more than likely that they're on YouTube!
Increased SEO. Whenever you host videos on YouTube, your site stays lightweight and fast, which increases your SEO rankings. Because YouTube is owned by Google, their videos are routinely ranked high on Google's search pages. There are several ways to optimize your channel to increase your SEO rankings even further, which will be detailed below.
Generate ad revenue. Once you reach 10,000 lifetime views on your channel, you can start to generate ad revenue. After you're approved, follow the instructions here to monetize your channel. Bonus: you can make money in other ways on YouTube, including merchandising, partnering with brands, and events.
Easy sharing. If people love your videos, it's easy for them to share the content to their social media platforms. This allows you to reach a whole new audience who might have been previously unfamiliar with your work.
How to Set Up Your Yoga YouTube Channel
The first step is to sign into YouTube with the Google account you'd like your page to be associated with. Then head to YouTube settings and click create channel. You have the option to create a business or personal page, but we recommend creating a business page because it gives you more branding options. Then, select a category for your page and your channel is made!
When you do this, a new Google Plus account will automatically be created for you. Make sure you choose a name and URL that align with your brand— they matter!
After you have the basics down, you can focus on branding. YouTube allows you to have channel art, mainly a large cover photo similar to a Facebook cover photo. For best results:
YouTube recommends using a 2560 x 1440 pixelimage
Include your social media handle in your channel art
Make sure any text or logos are displayed properly in each format (desktop, mobile, and TV)
Include social links in the bottom right hand corner, but ensure that they don't cover up any important text or logos in the photo
Use a free graphic design resource for branding such as Canva
Optimize Your Videos for Maximum Exposure
There are several ways to optimize your videos for maximum exposure. The most important way to get a volume of traffic is to produce consistent, high-quality content. You also need to use SEO-optimized titles, descriptions, and keywords on your channel and on each video. Ideally, your videos will show up as search results on Google, not just YouTube, to get more traffic.
Google tends to use video results for how-to searches, reviews, tutorials, and anything related to sports or fitness. For example, searching "how to do yoga" yields 3 video results on the first page.
Here are a few top tips for optimizing your videos:
Do your research. Find video keywords by simply searching for keywords in your niche on Google. Take notes on which keywords yield video results, and then head over to the free Google Keyword Planner. Check the search volume of each keyword to make sure people are actually searching for the phrase regularly. Backlinko recommends a monthly search volume of at least 300.
Make your video longer than 5 minutes. Longer videos rank higher in search.
Put your keyword at the beginning of the video title for a slight boost.
Include your keyword in the description in the first 25 words and use it 3-4 times throughout the description.
To learn more about SEO optimization, check out these resources
Case Study: Yoga with Adriene
A simple search for "yoga" in YouTube results in Yoga With Adriene as the only recommended channel. Eleven out of the nineteen videos on the first page are Yoga With Adriene videos.
Suffice to say, her channel is doing something right!
So what's her secret?
Consistent, high-quality videos. Her audience knows that her new videos come out every Wednesday.
Channel art optimized for all platforms.
Keywords in her channel title and all video titles. Video titles are typically along the lines of "Yoga for Runners," "Yoga for Anxiety," or "Yoga for Beginners."
Every year, she runs a 30-ish day yoga challenge that engages her audience and gets them really interacting with her channel and the other members of her community.
Videos longer than 5 minutes.
We can't expect our channel to grow to over 2 million subscribers over night (hers certainly didn't!) but she follows many of the best practices detailed in this article, to great success.
Bonus: check out Adriene's tips for getting your YouTube channel started.
Search traffic is fantastic, but it's not the only way to get your content seen on YouTube.
Create a 100-character text teaser and post to Facebook and Twitter.
Create a 15-second trailer and post to Instagram (make sure your video is linked in your bio).
Add the link to your latest video in your email signature.
Repost the video to other media websites, like Vimeo and Wistia.
Create a QR code to feature on print marketing materials such as brochures and business cards, to share at events and in your studio.
Film a video with a few other people and agree to share it together.
Are YouTube Ads Right for Your Channel?
You may want to skips ads for any number of reasons. Maybe you feel uncomfortable with having certain types of products associated with your videos or you simply don't want people to be "sold to" when they're trying to do yoga.
The ads do allow you to generate revenue and continue producing high-quality videos. But there are certainly other ways to make money from your channel, including brand partnerships and directing traffic to your website.
If you decide to monetize your account, you can control the types of ads displayed to eliminate ads that are inappropriate for your target audience or ads from your competitors. You can limit the format styles of ads that are displayed by going to Creator Studio > Channel > Upload Defaults > Ad Formats. To learn how to control the types of ads on your videos, click here.
Do you have a yoga YouTube channel? Whether you're just starting out or have been making videos for years, comment below and share what works for you!
Looking for more inspiration for your next yoga class? YogaClassPlan sequence builder gives you access to 7000+ shared class plans in your hands. You can create your own completely new class sequences by choosing from 500+ pose illustrations. Simply drag and drop poses to create your routine, add class plan details such as duration and level, and share the class plan with your students. Sign-up for a 15-day YogaClassPlan free trial today.