Blog >Marketing Tips
7 Tips To Find Your First Yoga Teaching Job
June 18, 2018 |

5

min read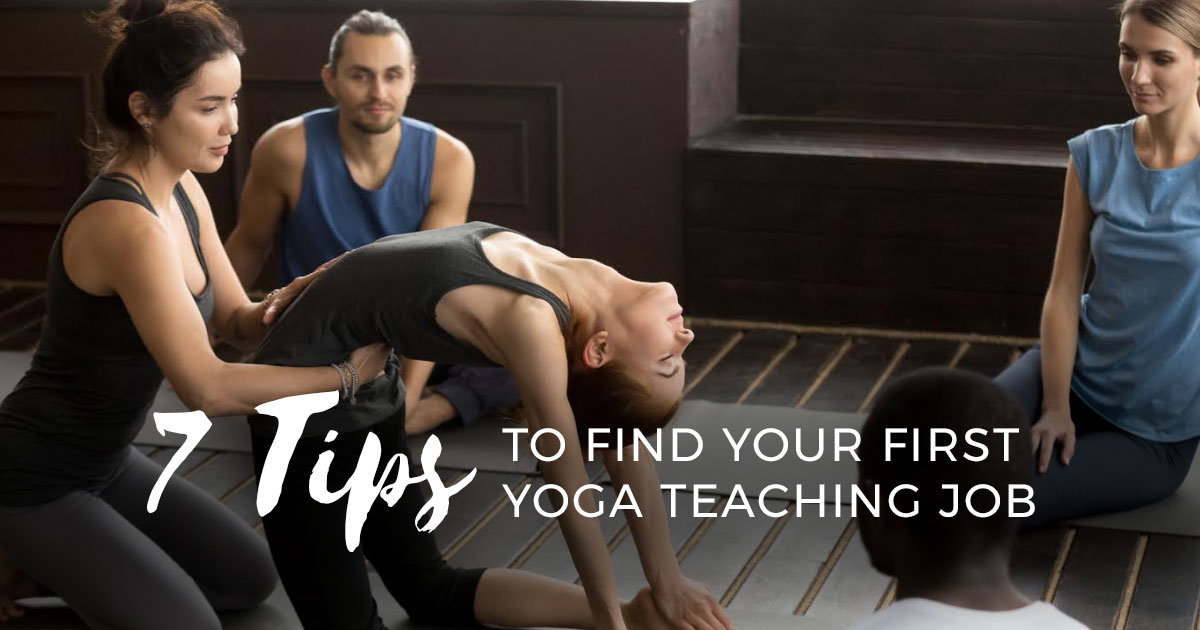 You've just finished your teacher training, armed with the knowledge you want to hit the ground running and get started on your teaching journey! Congratulations! You've completed a big step on your path to becoming a teacher. Figuring out how to find a job leading a yoga class can seem like a daunting task but it doesn't have to be.
Here are 7 Tips to help you find your first yoga teaching job.
Very few studios will actually consider you for a position if you aren't a member of their community. As you may have learned in your teacher training a big element of yoga is the community but it is also discipline. When you practice at a studio, you have time to become a part of their community, you also have the ability to decide if it is the right community for you.
Many teachers attempt to reach out to studios they have never been to for teaching jobs and either never receive a response or are not considered seriously because those making hiring decisions simply don't know them.
When you show up consistently and take classes, you interact with other and that allows you to more organically be connected for a teaching job.
A caveat to this gyms. Many teaching positions at gym's you can simply walk into and apply for with a resume or reach out online.
The best thing a new teacher can do is create opportunities for themselves. Whether you work at a company or you live near a park, you have easy access to a place to bring students, that is often times free. You can set your student rate and spread the word out to family, friends, and coworkers. You might be surprised, but people will actually show up to support you in your teaching journey. This also shows potential studio manager that you take initiative, which will help you down the road in landing a teaching spot on schedule.
Ask Your Teacher For Recommendations
You paid a teacher to learn from, that makes them a perfect source for recommendations on where to try to teach and how to approach different opportunities. The teachers you study with are also an excellent source to ask if they need an assistant for their upcoming classes and workshops. Having a mentor is invaluable and often times the best way to get connected into a particular studio. Having someone to vouch for you will help open doors a little more easily than simply trying it on your own.
While every new teacher would love to see their name on a studio schedule, there are so many other opportunities to teach a regular class when you are just getting started.
Gyms are a great place to start as you are often able to encounter new to yoga students and they can become lifelong clients and friends on your yoga journey. Companies big and small often offer wellness programs and typically go with people that are recommended to them, so don't be shy asking family and friends. Hospitals often have gyms and run classes on a daily basis which is an incredible place to teach people of all walks of life and can help shape you as a teacher.
Many fitness related stores are already offering weekly yoga classes. The next time you pick up a pair of stretchy pants, throw your name in the ring with a few of the employees, they are typically the ones that make the decisions on who teaches when so becoming friendly with a few will help your chances.
Don't Forget To Look Online
A lot of yoga teaching jobs are actually posted online through sites like Indeed and LinkedIn. While these are less likely to be studio teaching positions, they are often well paid regularly scheduled classes through corporations.
Free classes are a hot topic in the yoga world. While yes they can help you get your name out there, they actually devalue yoga significantly. If a student can attend a free class often, what is the incentive for them to actually ever pay for a yoga class. It is best to consider free offerings very carefully.
If a free class is to benefit a charity or cause, then go full force into it! Afterall, selfless service is part of the path of yoga! If however, a studio requires you to teach free classes in order for you to be considered for a teaching position, turn around and look elsewhere. You have paid for knowledge and a skillset, you have spent time, effort, and energy, you deserve to be paid accordingly.
Being a new yoga teacher is exciting! You have so many opportunities to teach you simply have to put effort into making the most of the opportunities that are available to you. With a little time and hard work, you will be teaching regular classes in no time!
Bre Nourse is an RYT 500 yoga teacher and wellness writer. Find out more about Bre at www.brenourse.com
Looking for more inspiration for your next yoga class? YogaClassPlan sequence builder gives you access to 7000+ shared class plans in your hands. You can create your own completely new class sequences by choosing from 500+ pose illustrations. Simply drag and drop poses to create your routine, add class plan details such as duration and level, and share the class plan with your students. Sign-up for a 15-day YogaClassPlan free trial today.